Available now at Amazon.com in Kindle and paperback editions.
How Did I End Up Here? Essays From An Imperfect Life
by Vicky Perrone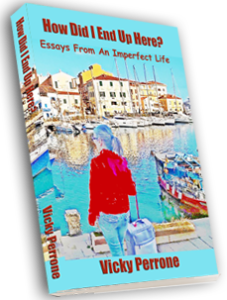 Vicky Perrone is a prize-winning photographer and former photojournalist, who has gone from troubled teen to adventurer and world traveler. Along the way, she's learned about life, relationships — and herself. In these essays, she shares her unique experiences, insights, and foibles with humor and a strong dose of self-deprecation.
Vicky's life may have been "imperfect," but it's also been fascinating. She began traveling the world before she was 10 years old, and she's met a number of fascinating characters along the way. Many of them make appearances in her book: Mike the Spy, The Sailor Man, The Shuffler… not to mention her husband and numerous other family members. Vicky's journey has brought her through many unique experiences — from what she describes as her "criminal past" up until the present, when people say she is "living the dream."
Vicky recounts many of those tales here, in a folksy, lighthearted style. She also raises some serious questions that we all confront: about aging and mortality, love and relationships, happiness and fulfillment. Her book is a memoir, but it's also more than that — it's a way of looking at life.
What are you waiting for? Available in paperback and Kindle editions at Amazon.com.
Booklife Reviews: "[T]his unconventional memoir is a glorious snapshot of a woman who has overcome a great deal and continues to welcome life with arms wide open."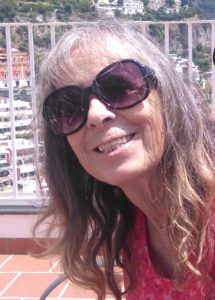 Vicky Perrone is a world traveler, adventurer, prize-winning photographer, and former photojournalist. She has lived various parts of her life in four different countries, and she thoroughly subscribes to Mark Twain's statement that "travel is fatal to prejudice, bigotry, and narrow-mindedness." She currently lives in Italy with her husband of nearly 40 years, a self-proclaimed shameless bourbon-drinking clown.
Contact: vicky@vickyperrone.com
Available now at Amazon.com in Kindle and paperback editions.